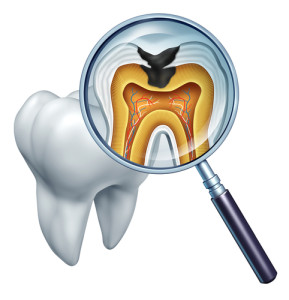 Tooth decay is a serious and widespread dental issue. Without treatment, a cavity threatens the health, appearance, and stability of your smile. Your Calabasas dentist, Dr. Payam Khalepari, offers treatment for tooth decay using the latest in general and restorative dentistry to identify and repair cavities.
Symptoms and Causes of Tooth Decay
To protect our teeth, a layer of protective enamel coats each individual tooth. Tooth decay occurs when harmful bacteria can bypass the enamel, reaching the sensitive inner layers of tooth structure. Trauma and poor oral hygiene both weaken the enamel, increasing the risk of dental caries. Once you develop a cavity, you may experience a number of symptoms, including:
Tooth sensitivity to hot or cold temperatures
Chronic toothaches
Swelling around the tooth
Sharp pain when biting down or chewing
Over time, the decay will spread, potentially causing an infection or dental abscess. When this happens, the tooth may require a root canal or eventually, extraction. If you exhibit one or more of these symptoms, talk your Calabasas dentist right away.
Restorative Dentistry
Your Calabasas dentist will perform a thorough examination, using digital x-rays to pinpoint decay in the earliest stages. From there, Dr. Khalepari will recommend treatment using our restorative procedures, which include:
Fillings: After cleaning the tooth, Dr. Khalepari will remove the decay and disinfect the area. He will place a filling made of composite resin. This material blends with the surrounding teeth and provides strong, long lasting restoration. A filling is a minimally invasive procedure that returns the tooth to full function and health.
Crowns: A crown is a cap that fits completely over the visible portion of the tooth. The crown prevents further infection and preserves the remaining tooth structure. Using CEREC technology, Dr. Khalepari can create and place a custom-made ceramic crown in a single visit. Ceramic looks natural and provides decades of quality restoration.
About Calabasas Smiles – Dr. Payam Khalepari: Dr. Khalepari offers our patients a relaxing atmosphere and state-of-the-art care employing the latest in dental technology. To learn more or to schedule a consultation, contact Calabasas Smiles Dentistry at (818) 878-7300.
Do You Have a Cavity?
was last modified:
December 17th, 2015
by