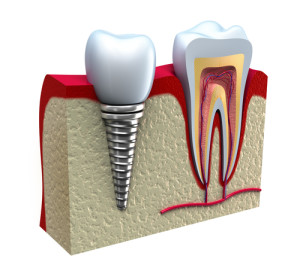 Do you suffer from tooth loss? According to a recent study conducted by the American Association of Oral and Maxillofacial Surgeons, you're not alone. 69% of adults between the ages of 35 and 44 are missing at least one permanent tooth. By age 74, over 26% of adults have lost all of their teeth. Your Calabasas dentist, Dr. Payam Khalepari, offers quality dental implants to replace missing teeth.
What are Dental Implants?
Implants are biocompatible titanium posts that a trusted periodontist will insert into the jawbone. Through the process of osseointegration, the bone tissue will bond with the post, securing your implant. A restoration will be custom-made and fabricated. Then, your Calabasas dentist will place the restoration onto the implant. Once your implant is complete, you will be able to eat, smile, and even talk with comfort and ease.
The Benefits of Dental Implants
Dental implants provide a number of benefits. First, implants can be used to replace a single tooth or provide an entire set of fixed dentures. Similar methods of tooth replacement, such as dental bridges, last for 10 to 15 years. On average, a dental implant lasts up to 25 years, and in some cases, even longer. Dental implants don't require special care; simply maintain the same dental habits you would for your natural teeth.
Dental implants also help prevent the misalignment, loss of bone density, and further tooth loss often associated with missing teeth. Bone loss often causes a patient to appear older, sometimes developing jowls, sunken cheeks, and even a ptotic chin. This is due to the body suspending the flow of nutrients to the jawbone surrounding an empty socket. An implant is accepted as a natural tooth, causing the body to resume the flow of calcium and phosphorus. This maintains your youthful facial features and prevents the loss of additional teeth. For more information on our implant procedures, talk to Dr. Khalepari today.
About Calabasas Smiles – Dr. Payam Khalepari: Dr. Khalepari offers our patients a relaxing atmosphere and state-of-the-art care employing the latest in dental technology. To learn more or to schedule a consultation, contact Calabasas Smiles Dentistry at (818) 878-7300.
Natural Looking Tooth Replacement
was last modified:
November 12th, 2013
by