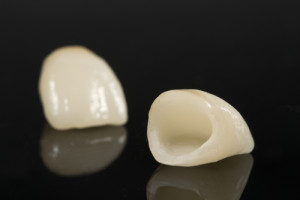 Do you experience frequent tooth sensitivity or a toothache? If so, you may be suffering from tooth decay. In order to return your tooth to full function and health, you may require a dental crown. Your Calabasas dentist, Dr. Payam Khalepari, offers strong and natural looking crowns that can be created and placed in just one visit. Dr Khalepari also utilizes the most advanced technology for dental bridges in Calabasas.
Calabasas Dental Crown Quiz
1. True or False: Dental crowns fit over the tooth.
2. True or False: Dental crowns are used in a variety of cosmetic and restorative procedures.
3. True or False: Dental crowns look natural.
4. True or False: Your Calabasas dentist offers one visit dental crowns.
Answer Key
1. True. If your Calabasas dentist decides you need a crown, the tooth will be prepared, which involves removing a portion of tooth structure. A crown will be created based on an impression and placed over the visible portion of the tooth.
2. True. A crown may be used to repair a damaged tooth or a tooth afflicted with advanced decay. Following a root canal procedure, a crown may also be used to restore the tooth. To replace missing teeth, crowns are often employed in dental bridge and dental implant procedures.
3. True. Each crown will be custom-made and shaded to ensure the restoration blends seamlessly with your smile. Your Calabasas dentist uses ceramic to create our crowns because this material mimics the translucent nature of tooth enamel, so your crowns match surrounding teeth.
4. True. Using CEREC technology, Dr. Khalepari can make and place a quality restoration in one day. Typically, a crown takes at least two visits, with patients wearing a temporary crown in between appointments. With CEREC, Dr. Khalepari takes photos and ex-rays of your teeth to create a 3D computer model. The CERER machine uses this model to craft a crown from a solid block of ceramic. Once placed, your new crown will allow you to eat and smile with confidence.
About Calabasas Smiles – Dr. Payam Khalepari: Dr. Khalepari offers our patients a relaxing atmosphere and state-of-the-art care employing the latest in dental technology. To learn more or to schedule a consultation, contact Calabasas Smiles Dentistry at (818) 878-7300.
Quality Restoration with Dental Crowns
was last modified:
June 22nd, 2023
by